All Upcoming Events
The Fearrington Cares Center Will Be Closed from Thursday, December 19, 2019 until Thursday, January 02, 2020. The Center may be closed for the holidays but our volunteers will be busy providing transportation and handyperson services. If you need assistance with either of these areas of service, call the Center at 919-542-6877 and leave a message in the appropriate mailbox; a volunteer will be in touch. All requests for computer help and for the Fearrington Friends program will be handled when the Center re-opens on January 02. Messages regarding those programs may be left in the general mailbox.
---
It's Flu Season — Remember to Get Your Senior Flu Shot! 
The cost is covered by Part B Medicare coverage. The season has gotten off to an early start especially in the South and the strain that is spreading fastest is a very serious one.  It's still not too late to get vaccinated.
Monitor the CDC (Centers for Disease Control) influenza website
for up-to-date incidence and prevalence reports, symptoms, and warnings.
This is a health issue to be taken seriously. 
---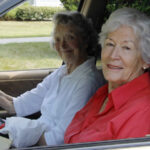 New Transportation Terms Beginning in 2020.
Fearrington Cares volunteers will take villagers to the grocery store, the bank, an attorney or to a medical appointment. Our services are well utilized and the increasing number of requests is challenging our drivers many weeks of the year. Beginning in 2020, we have 2 important requests of those we assist: we ask that grocery shopping be completed in 90 minutes and going forward we can no longer provide either next day or same-day rides.
 Ride requests for medical appointments may be made as much as 2 weeks in advance; please call the Center 
with no less than 2 days' notice
 to request transportation assistance from our volunteers.
---
See the
TECH TUESDAYS Series new dedicated content page
, which displays recent and upcoming program information, including (when available) the presentation files associated with each program in the series. Following all programs, visit that page to see and download the associated program file(s).
---
Join Our Movement Classes!
 Regular movement and stretches help keep you healthy. We provide classes for you every weekday from 11:30 a.m.—12:30 pm. 
See this MOVEMENT CLASSES calendar for class descriptions and class schedules
.
---
Our five Support Groups meet at the Fearrington Cares Center unless otherwise noted.  'Brainiacs': Thursdays, 10:00–11:00 a.m.  (Call Karen Metzguer, 919–542–6877, for information.) | Parkinson's Caregivers and Care Receivers: First and third Wednesdays 10:00 am. – 11:20 p.m. Meets at The Gathering Place. | Caregivers Support Group: Wednesdays | Alcoholics Anonymous-Closed Meeting: Wednesdays, 10:00 a.m. | Living with Chronic Conditions Support Group: Thursdays at 1:00 p.m.
---
AmazonSmile WORKS! If you designate Fearrington Cares as your charity on the Amazon website, each time you order they donate a portion to us!  Thanks to your shopping, from the time we began our participation in AmazonSmile, as of August 2019, we have received donations of $1,464.16 from this program! As of November 2019, Fearrington Cares has received $434.16 of this amount this year. Thanks to all who designate Fearrington Cares as their charity on Amazon. Keep up the good shopping, and remember AmazonSmile when shopping this holiday season and always!
---
Duke Energy encourages everyone to have a plan should another severe storm cause extended power outages
. You can sign up for outage alerts by texting
REG to 57801 or enroll online.
---