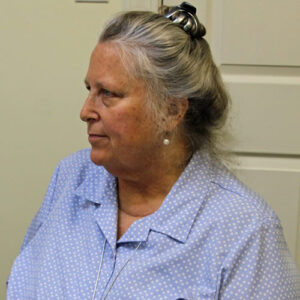 The Fearrington Cares Board of Directors awarded Karen Metzguer a formal Certificate of Appreciation in recognition of her outstanding and remarkably dedicated service to Fearrington Cares and the many village residents served by Fearrington Cares and our several hundred dedicated volunteers.
Karen has been a practicing nurse continuously since 1976 and is a retired Professor of Pediatrics, UNC School of Medicine, who spent 35 years working in infant mortality reduction at the local, state and national level. She worked as a Red Cross Disaster Nurse from 1995-2002 and assisted in emergency operations across NC, in VA, PA and at the Pentagon, September 11, 2001. She is also experienced as a Hospice Nurse, a Geriatric Care Manager and is currently the Nurse and Executive Director of Fearrington Cares.
This award was presented to Karen at the May 13, 2019 meeting of the Board of Directors and coincided with the recent 2019 Annual National Nurses Week sponsored by the American Nurses Association (ANA).
National Nurses Week is celebrated annually from May 6, also known as National Nurses Day, through May 12, the birthday of Florence Nightingale, the founder of modern nursing. The ANA theme this year is honoring America's 4 million registered nurses and members of our nation's most-trusted profession.
We hope you will join us in recognizing the invaluable contributions Karen adds daily to the lives of many Fearrington residents of all ages, as well as the contributions nurses in other communities and facilities make where they serve.
Thank you, Karen!